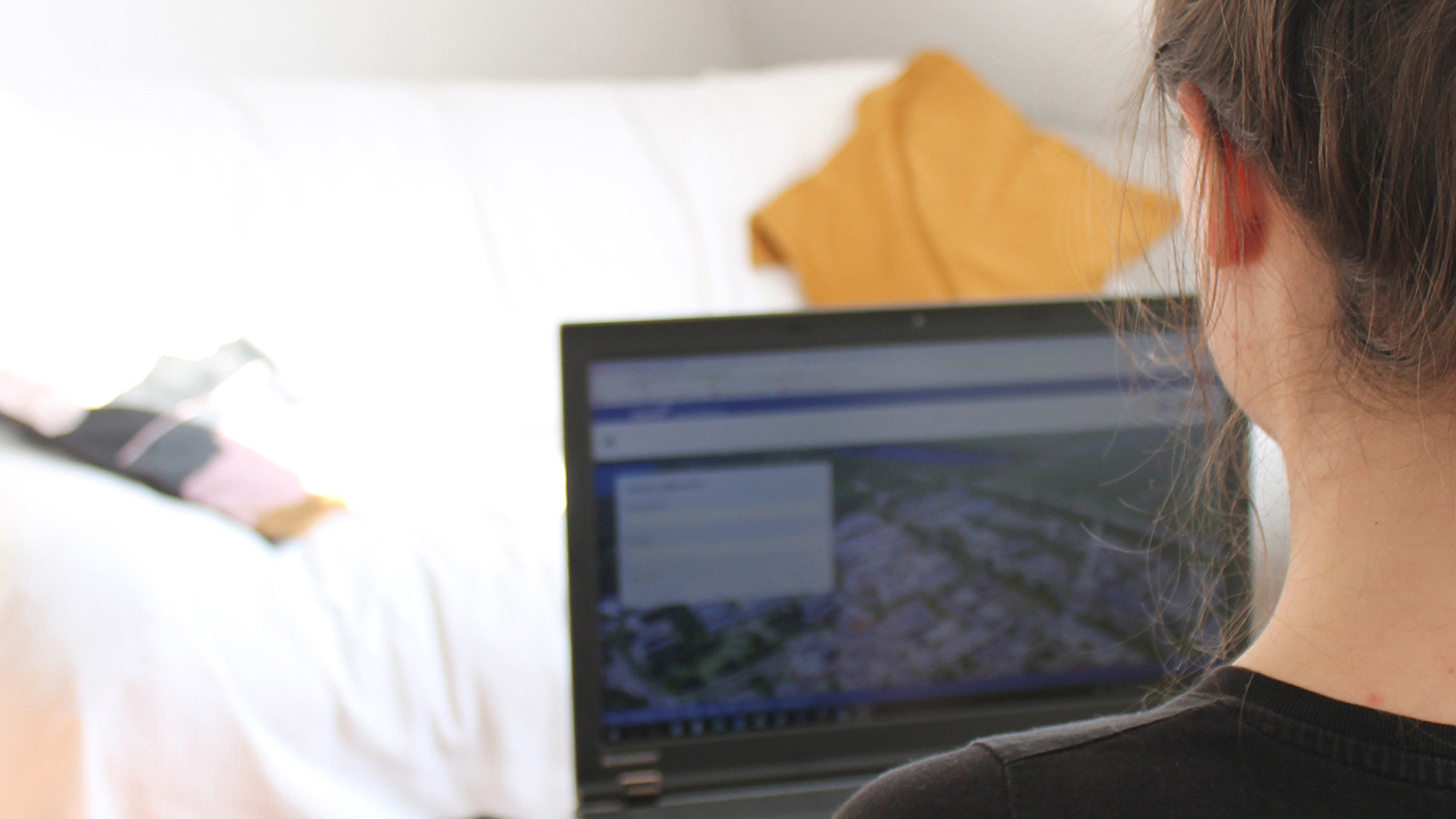 The Face-to-Face Classroom Goes Virtual
Three students talk about their experiences with the transition to the digital semester
The summer semester 2020 is the first digital semester in the history of the University of Bremen. All courses have been moved online due to the coronavirus pandemic. How do students experience the transition to digital learning? What are the advantages and disadvantages of it? Three students share their perspectives.
Jan Lehnert, 28 years old, BA English-Speaking Cultures/Linguistics, 8th semester
I reckon my transition was very similar to the one of many working people who had to get used to the home office. What I am missing most in my daily routine is the clear cut between work, studying, and leisure time. Surely, it's nice to study while wearing sweatpants, but I first had to learn to plan every day through, so I wouldn't end up suddenly having to write my essays at three a.m.. It's weird not seeing the campus at all anymore.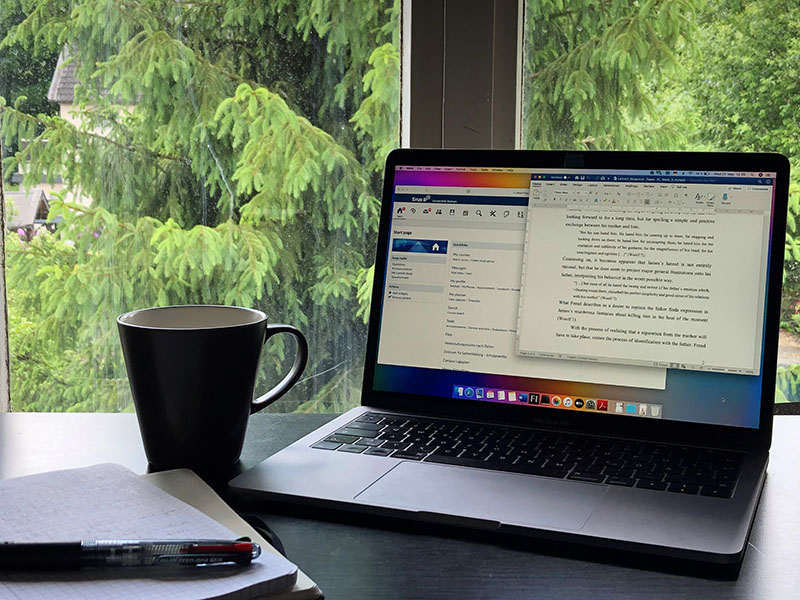 A few courses I had registered for this semester were spontaneously canceled after the beginning of the lecture period. That was a bit chaotic, but fortunately, I was able to find a new course very soon. Also, I plan to finally do my mandatory internship this summer. I'm afraid that in the current situation, it might become more difficult to find a suitable place.
The personal exchange can hardly be emulated online
At first, I didn't think that the transition would be a big deal for me and other students in the humanities, because in those subjects you spend a lot of time alone with your laptop and books anyway. I was surprised, though, how important the personal exchange in the seminar really is and how difficult it is to emulate online. No matter if online forum or video conference: Discussions like in the weekly class do not develop. But there is one advantage: the flexibility. You can arrange your work in the way that suits you best, and in many cases, you are neither bound to a specific place nor time.
This semester might be a good starting point
I would also like to see more flexibility in the future. Perhaps this semester will be a good starting point for lecturers to finally make full use of modern technologies. For example, not every assignment needs to be printed out and dropped in the mailbox when you can simply upload it instead.
Alena Weiß, 24 years old, BA Cultural Studies/Communication and Media Studies, 6th semester
In the beginning, I could hardly imagine being taught online only, as it was completely new for me. At least in my courses, it was not common to have online seminars until now. When I had my first seminar via Zoom, I first had to find out how to participate in the seminar in the new format and if I should have the camera on or not. But in the meantime, I got used to it, and participating and speaking in online seminars is getting easier and easier. I also think it is quite normal that everyone has questions in the beginning and you feel a bit overwhelmed, because the situation is new for everyone.
Online learning requires more self-discipline
For me, online learning requires even more self-discipline and motivation. Assignments are now sent by e-mail without a deadline, so that you have to decide for yourself when to do them. On the one hand, this means that I have the freedom to organize my daily routine more independently, but on the other hand, it is also a great challenge, because I quickly get distracted by other things or tend to procrastinate on things.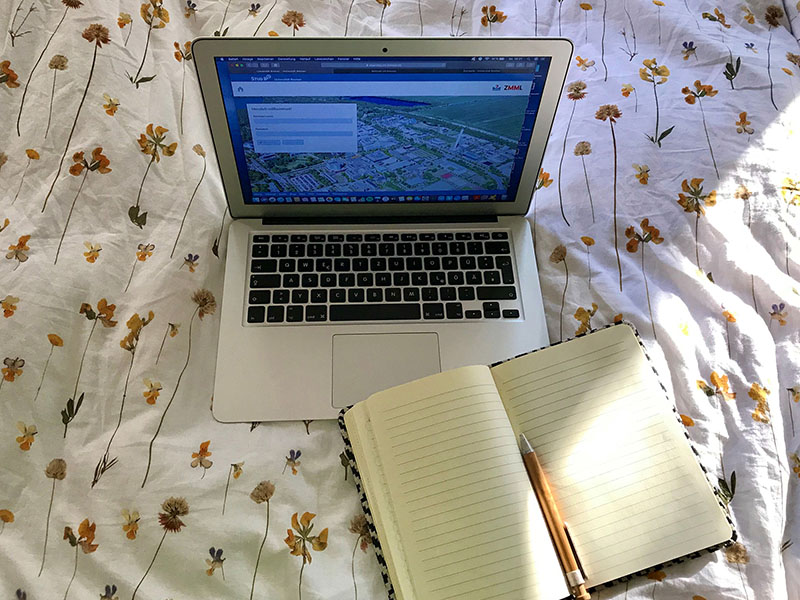 I am lucky that I can continue my part-time job as a student assistant from home. This was possible before, so not much has changed for me here. I will probably complete my mandatory internship as planned in the lecture-free period ahead. I am also quite happy and grateful that I don't experience any major restrictions in my job or anywhere else because of the digital semester.
For the coming semester, I hope that the email exchange with the teaching staff will continue to work as well as now. In the past, I often had problems with not being able to reach lecturers or with them often having difficulties with the Stud.IP learning platform. Now that we all have to deal with it and the digital medium is the only way to stay in touch, I think it will make many things easier in the future as well.
Lina Meyer, 23 years old, BA German Studies/Communication and Media Studies, 6th semester
The digital semester has only slightly changed my plans, fortunately. I had planned to complete my 12-week internship in July. Due to the coronavirus, the company where I was supposed to do my internship could not give me a definite confirmation and it was uncertain for me whether this would change my course of studies and extend my length of study once again. I was lucky to have found an alternative. I am also fortunate, because my part-time job allows me to work from home without any problems and so my financial situation is secure.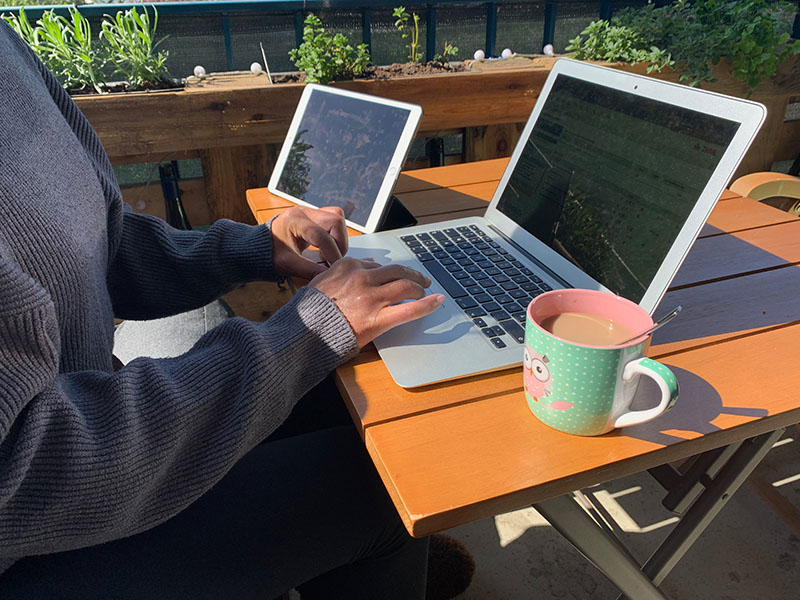 I had expected that it would be difficult to switch to an entirely digital semester on such short notice, both for teaching staff and students. What surprised me, however, was that little use is made of virtual classrooms, which means that there is no fixed time structure and hardly any exchange between students and teaching staff. Instead, presentations and assignments are uploaded to Stud.IP that have to be done individually.
More work, less motivation
This is the biggest disadvantage for me: The workload is higher, but at the same time, I am less motivated because I miss the discussions and the exchange with other students. And, of course, I miss spending time with friends on campus or going to the library together. On the other hand, free allocation of time has its advantages, of course – I can decide on my daily routine fairly independently and decide for myself when I want to do some work for the university.
I very much hope that the coming semester can take place as usual again. If I could keep one thing, it would definitely be the flexible time management of the digital semester. I would like to keep being able to choose when, where, and how much time I invest in my studies.