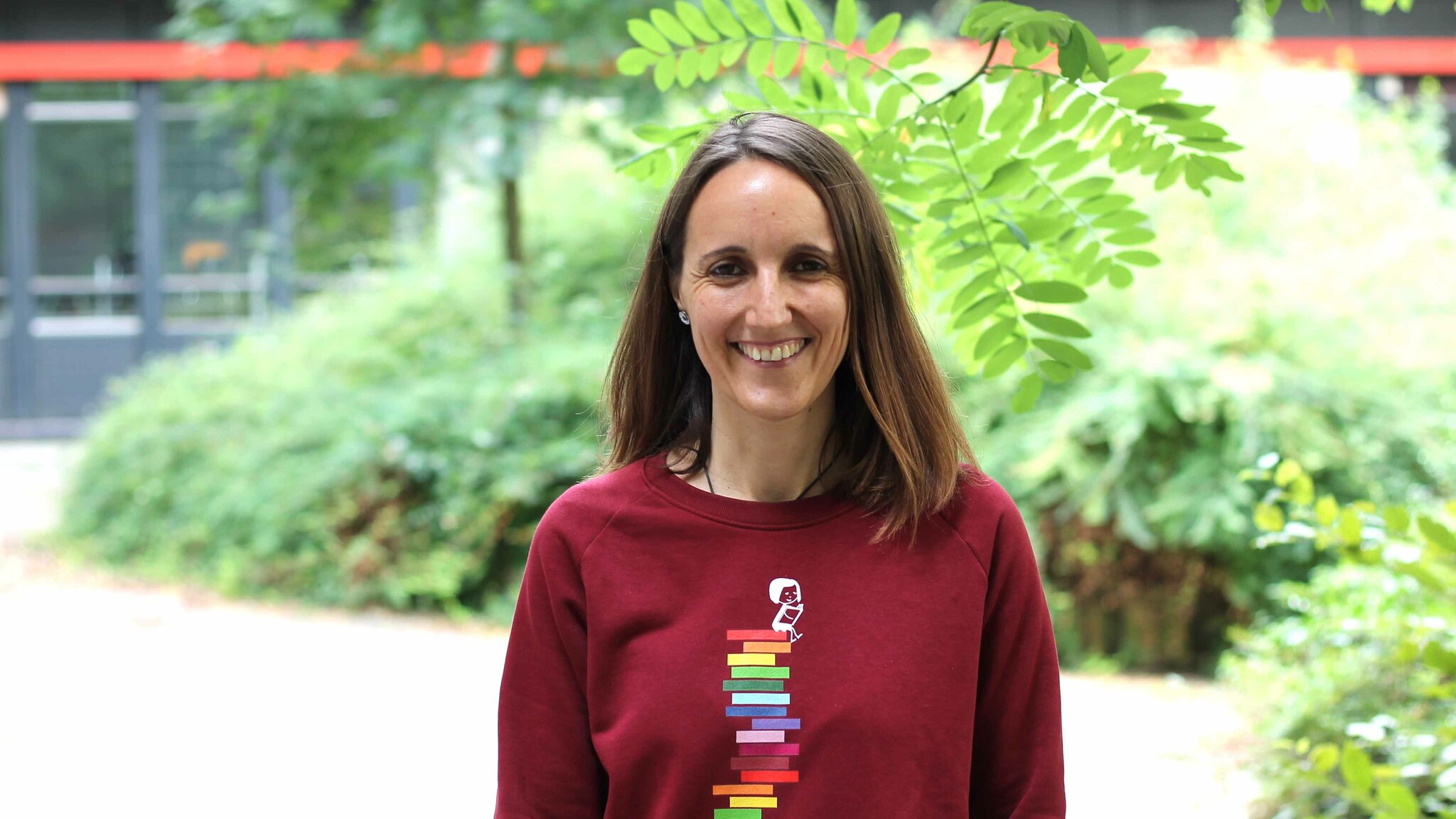 Book Corner
In this new series, we will be introducing people on campus and their favorite books. This time: Elisabeth Hollerweger.
Dr. Elisabeth Hollerweger read Wolfgang Herrndorf's unfinished novel "Pictures of Your True Love" for work. However, the book also left its personal mark on the literature scholar and that's how it came about that she presented the book to us as her favorite piece of literature. A novel that made her see more sharply.
As the director of the Bremen Institute of Storybook Research, Dr. Elisabeth Hollerweger mainly spends her days working on children's books. When training her students from the Faculty of Pedagogy and Educational Science, she finds it particularly important that the future teachers are made aware of the educational potential of modern literature. She has already developed a lesson concept based on Pictures of Your True Love by Wolfgang Herrndorf. The novel, which was published posthumously in 2014, is Herrndorf's second road novel after his successful work "Tschick." The plot may seem familiar to those who have read Tschick. The young protagonist, Isa, runs away from a psychiatric facility. Even if the character Isa already made an appearance in Tschick - Pictures of Your True Love should not be seen as a sequel; Elisabeth Hollerweger points this out directly. "The attention paid to Isa rather expands the view of what is happening: Meeting Tschick, the character from whom Herrndorf's youth novel gets its name, is recounted form Isa's perspective in Pictures of Your True Love." That is why Elisabeth Hollerweger chose this particular book for the up2date. interview: "In my opinion, this is what makes it an interesting literary project!"
Fragmentary Stories
"Pictures of Your True Love also reflects on the process of development: The novel remains unfinished and Herrndorf worked on it until shortly before his death. He always demanded that no fragments are published and no scholars of Germany touch his work. He made an exception for Pictures of Your True Love but did state the conditions for publishing. The editors Marcus Gärtner and Kathrin Passig therefore only took the parts of Herrndorf's manuscript and combined them to form a linear story. That is how, as the subtitle reveals, it remains an unfinished novel. "I also find the perspective interesting," says Elisabeth Hollerweger. "The narrative is solely based on Isa's internal perspective. The incomplete and fragmentary story fits with Isa's impression of the world and her view."
Insane Hero
But how does she interpret Isa's perception? Is she as insane as it appears in Tschick? "That's something that you ask yourself permanently when reading, as the story is not constructed in a very clear way. The impression of insanity from Tschick loses its weight by means of the first sentence in Isa's story. She says: 'Insanity only means that you're insane and not stupid.' Thus, Isa is an insane person and also an unreliable narrator," emphasized Elisabeth Hollerweger. She continually has strange encounters that are irritating in their reception and may change one's own view of the world in certain ways. What she particularly enjoyed was a performance of the manuscript at the Prinz Regent theater in Bochum. The multifaceted character of Isa was portrayed by three people: the active Isa, the thinking Isa, and the feeling Isa. This fits with her own impression of the main character. "Isa's many mental games make the book particularly interesting," states Hollerweger. "For example, the part where she says: 'I imagine how my life would continue if it were not my life but rather a novel.' Fragments of memories and bizarre meetings are intertwined with poetic snapshots."
"It Is a Privilege to Read"
Hollerweger's own reading manner has changed over the years. The scholar of German mainly reads for her seminars with teacher education students and she also reads the articles that she writes. The fact that reading is part of her job, as she always needs to be up-to-date, is something that she believes to be a great privilege. Her passion for reading is definitely something that she feeds - as one can see with the choice of her favorite book. Herrndorf's novel is not per se a youth book due to its young protagonists. The literature scholar summarizes: "Young people are not always able to grasp issues of life perspective." In terms of teacher education, she therefore works on the process of literary learning: "The questions that we ask are: Can I dive into other perspectives and literary worlds? And see my world through other eyes?" And the questions that move her personally when she reads a good book: "What fascinates me, why, and how is it connected to me?" One thing is sure, Isa's way of looking at the world has definitely influenced Elisabeth Hollerweger. "You follow her inner perspective, look through her eyes, and then scrutinize standards and your own world view. Even after many years have passed since reading the book for the first time, I find myself in situations where I think: What would Isa say about this?"
---
Do you have a book recommendation that you want to share with other enthusiastic readers? Whether it is fiction or non-fiction, just send an email to the up2date. editors. We'd be happy to hear from you: < up2date@uni-bremen.de>.